Share your experience and your work by presenting at the Trauma Tasmania 2020 Symposium
All abstract submissions will be subject to review. Authors should ensure that the following criteria are met in their abstract submission:
Successful presenting authors will be required to register to attend the conference
The topic is relevant and important to the chosen theme
Abstracts must conform to the requirements as outlined:
The abstract word limit is 300 words
Abstracts must be submitted via the abstract portal by Friday 20 March 2020, 11:59pm AEST
Abstracts sent by fax or email will not be accepted
A biography of the presenting author must be entered at time of submission
You can select one theme that fits your abstract submission
Themes
We invite applications to present a session or poster on any topic of relevance to the prehospital phase of trauma care and the interface of pre-hospital care with other clinical services.
Indicative themes are:
Nursing in the prehospital phase and resuscitation bay
Training pathways in prehospital care
Assessment and management of trauma patients in the field
Prehospital management of burns
Acuity and injury-based redirection policies
Interagency cooperation in the prehospital environment
Quality assurance and improvement of prehospital care
Interdisciplinary education for initial trauma management
Abstracts addressing other trauma related themes will also be considered for inclusion in the poster session.
Opportunities for Presenting
The Organising Committee seeks to support innovation in the delivery of ideas. We encourage you to think of the best way of engaging with your audience, sharing your experience and generating exploration and learning.
Abstract authors may be asked to re frame or further develop their exploration; or explore a collaborative presentation with an author who has submitted a similarly themed abstract.
Please select If you would like to present an Oral or Poster Presentation before submitting your abstract via the Abstract Portal. Presentations which are not accepted for an oral presentation may be offered a poster presentation.
Oral Presentations
Oral Presentations will vary in time according to the topic of presentation.
Presentations which are not accepted for an oral presentation may be offered a poster presentation.
Poster Presentations
Posters will remain on display throughout the symposium. You will be expected to stand by your poster to discuss the contents with interested delegates during break times. You may want to add your mobile phone number, so delegates can arrange to meet you at your poster at specific times.
If you would like to submit an abstract for a poster display at the Symposium, please nominate this request when you submit via the Abstract Portal. Posters should be in portrait and not exceed AO size (1189mm high x 841mm wide). These will be mounted on a display panel, for the duration of the Symposium.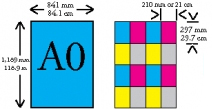 Tips for Presenting an Abstract
Presenter Terms & Conditions
All presenters must register and pay for the Symposium.
Papers must be presented by the named authors. Proxies will not be permitted except in an emergency such as ill health.
The Organising Committee reserves the right to accept or refuse any proposal.